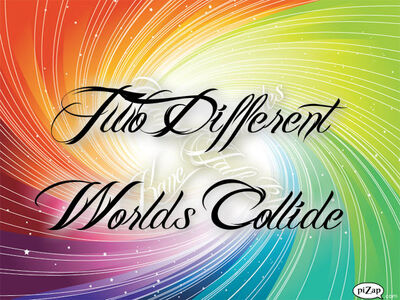 This is another crossover of the Camp Half-Blood and Kane Chronicles series besides
the one about a Greek demigod who became a magician
.
Disclaimer
Edit
I do not own the Kane Chronicles and Camp Half-Blood, Rick Riordan does, but I own the names of the teachers.
Plot Sypnosis
Edit
It is all about how the two siblings, Carter and Sadie Kane, goes to school at Goode Middle and High school, where the famous demigods, Percy Jackson, Annabeth Chase, Nico di Angelo, and Thalia Grace, goes to.
Bunch of Greek monsters and Egyptian monsters starts finding them easily, even a drakon. And the gods (minus Anubis) are doing everything they could to seperate the two counterparts (if this is done, there will be even Roman demigoddies :) ). Gaea's been making awesome yet deadly earthquakes while fighting Geb, who is failing miserably to keep control of his female counterpart. And to add it, Ouranos is having a comeback, and Nut's doing everything she could to prevent him from crushing down the people, even if it includes Sadie and Carter (she really isn't mad about the rising-Ra incident).
And worse of all, Percy - now in a relationship with Annabeth - had started to grow romantic feelings for Sadie - whom is now dating Anubis, the god of funerals - and Annabeth's feeling a bit queasy over Percy's now weird behavior.
And to add it off for another, Carter Kane - whom is dating Zia Rashid - falls in love with Annabeth, but Thalia - whom fell in love with Carter - wants him to notice her, but Nico - whom has a crush on Thalia - has other plans.
Who will end up with who? Will Zia find out about Carter's new crush? Will she break up with him if she did? Will Nico get the girl? Will Thalia be kicked off the Huntresses of Artemis if Artemis knew? Will Annabeth find out about Padie? Will Anubis find out about it, too? Will the Greek gods intervene? Even the Egyptian gods? Why am I asking you all this?
If you wanna know what revolves around this story, then read their chapters.
Characters-Ages
Edit
Kane Chronicles
Edit
Sadie Kane - 14
Carter Kane - 16
Zia Rashid - 16
Anubis - 5, 000
Bast - 5, 000
Amos - somewhere in the middle-ages of men
Camp Half-Blood
Edit
Percy Jackson - 18
Annabeth Chase - 18
Thalia Grace - 15
Nico di Angelo - 15
Paul Blofis - somewhere in the middle-ages of men
Chiron - 5, 000
Mr. D. - 5, 000 IM A BIRD