Appearance
Edit
When Akila was a baby, she had dark brown hair and silver eyes, but at the age of 3, her hair and eyes darkened. Again, at the age of 13, her eyes changed again, but this time into a stormy gray. She usually wears black eye liner and a skull necklace.
Akila Mubarak

Gender

Female

Family

Anubis (father)

Wendy Mubarak (mother, deceased)

Status

Alive

Age

14

Eye Color

Stormy Gray

Hair Color

Black

Height

5'9"

Species

Demigod

Home

New York
Personality
Edit
Akila can be stubborn and can be angried easily, but she can also be a loving person and has a soft spot for little kids. She rarely smiles, usually smirking. She loved her mother very much, and was angry and sad when she died.
Akila was mocked as a child for her changing eye color, and she being egyptian. She was 2 years old when her mom died. It was a mystery how she died, but no one cared. The government had more "important" cases than her mother's. Akila was angred with the government, and ran away from their care at the age of 3. She lived on the streets for 5 years, when the government found her and sent her to a boarding school. After that, she went to a new boarding school each year because of........problems that happened at that school.
Weapon of Choice
Edit
Her skull necklace, which turns into a silver or black sword (whatever she wants it to be). Bow with silver arrows (they can kill and/or destroy anything with one touch)
Relationships
Edit
Alex X - Boyfriend at the end of Daughter of Anubis
Anubis - Father
Wendy Chaos - Mother, deceased
Nat McNeal - sister-figure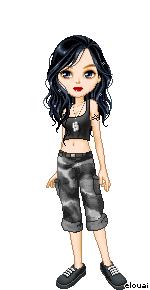 Ad blocker interference detected!
Wikia is a free-to-use site that makes money from advertising. We have a modified experience for viewers using ad blockers

Wikia is not accessible if you've made further modifications. Remove the custom ad blocker rule(s) and the page will load as expected.